Offroader Series
Edit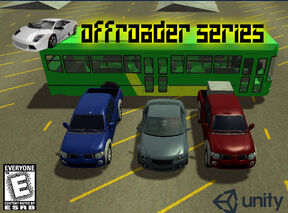 The
Offroader Game Series/Offroader V
 Was Developed by Unity Technologies, including the same game map of 
Ferrari Test Drive, Edy's Vehicle Physics 
and 
Chevrolet Corvette.
Storyline
Edit
There Were Two Offroad Trucks Named Bluemax Acretruck and his Brother Redmax Acretruck Whom decided to make their adventure but the Evil Sports X Shiny and Fat Green Liner also decided to destroy the someone who was making an adventure the the two Offroaders Joined Forces to have the adventures they wanted by destrying them back.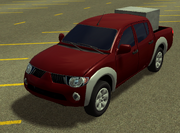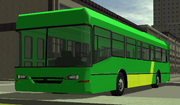 Fat Green Liner
Volvo, Hyundai and Mitsubishi Bus (Influence).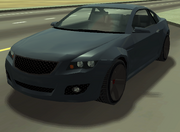 BMW M3 Coupe/Bentley Continental and Other Sports Coupe Models.
The Offroaders Series was published as a physics driving game.
The game also has HD Car Damage.
During Offroaders V1 V2 It was just Two Pickup Trucks.
Their HD Crashes are a reference to the other unity Driving Games.
The Offroaders V4 Game Takes place in a small city which is an influence to Las Vegas and The Desert Hills.